Off we go!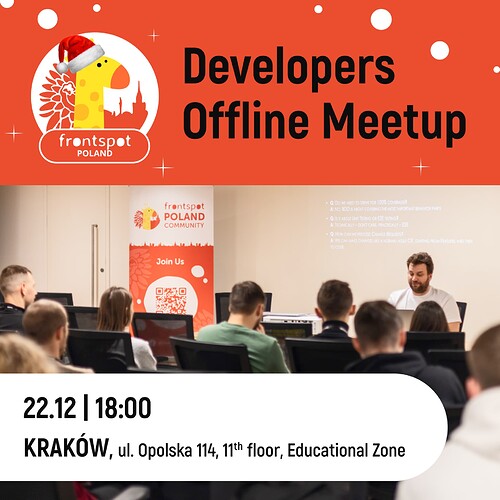 December, 22

18.00 - 20.30
Our speakers:

Anton Ilchenko, Software Engineering Team Leader -
How I Learned to Stop Worrying and Love the Firebase
Firebase is a powerful cloud solution to create and host applications. In this talk I will tell my story about my journey building a "Frontend-first" App, highlighting the most important parts of Firebase and providing a small code session on how to start and host a Firebase app.

Artsiom Marozau, Software Engineering Team Leader -
From Zero to Hero
I'm an engineer with 8 years of development and mentoring experience. This lecture is an overview of roadmap for JS developers. This will help you to grow when feel that you reached your limit. We will cover grows plan for beginners and will see what senior developer need to be competitive. Also, we will discuss capabilities for experienced developers.

JS Quiz + New Year Gifts
Don't Miss!
Registration link: FrontSpot Poland Community Offline MeetUp