Join our FREE online event for Ruby on Rails developers!
Fb: Redirecting...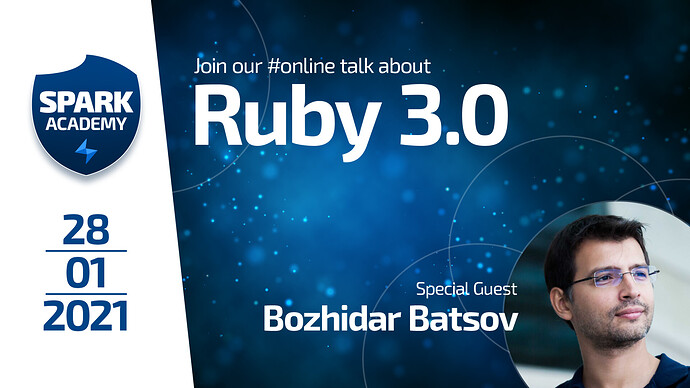 Spark Academy 2021: Spark Solutions' knowledge sharing event - Ruby on Rails Workshops
Upcoming workshop:
– Ruby 3.0 / Bozhidar Batsov
Recently released Ruby 3.0 was a long wait and surely every Ruby developer is pretty excited it's finally here. Will it be better, faster, more correct, pleasant, with better features?
Let's ask our inaugurational Spark Academy Special Guest - Bozhidar Batsov. He is a Hacker and Emacs fanatic, author of RuboCop, CIDER, Emacs Prelude, Projectile and others. Maintainer of nREPL.
He loves computers in general and programming in particular. His fanatic devotion to Emacs is known world-wide. He spent a lot of his time on GitHub, contributing to various open-source Ruby, Clojure and Emacs Lisp projects.
How to enroll?
Book some time
Join the event on Facebook: Redirecting...
We will share the URL to live stream 1 day prior the event
Join the stream!
Past workshops:
– March 19th - PWA explainer for Devs and PMs: how to build E-Commerce apps using Spree PWA?
*PWA value proposition
*History, current state and integration steps
*How it benefits commerce
YouTube Live video: https://youtu.be/v9UzsQPzZuw
– April 2nd - Re-platforming Ruby on Rails web apps: how to leverage Rails 6 features such as multiple databases with Active Record and Action MailBox in e-commerce
YouTube Live video: https://www.youtube.com/watch?v=cg-zxOlMpNs&t=198s
– April 16th - Instagram feed integration with an E-Commerce web app
YouTube Live video: https://www.youtube.com/watch?v=oSRMCPrAxnc&t=270s
–May21st - Automated testing for QAs: how to collaborate with your dev-mentor to get up to commercial project speed and quality?
YouTube Live video: https://www.youtube.com/watch?v=canH1S8mq7Q&t=2s
– June 18th - Docker tips & tricks
About Spark Academy:
Recurring 2-hour ONLINE workshops with Spark Team Members & Guest Speakers (Industry Opinion Leaders) every second Thursday at 18.30, starting in January 2021 and happening every two weeks, according to the schedule.
If you want to learn something new and spend time with people passionate about software development - these workshops are great for you!
For whom?
RoR and JS developers, PMs and QAs enrolling from the Spark team & from the outside.
Participation is remote due to attempts to mitigate the spread of COVID-19.
Spark Academy workshops are free and open to all interested parties, however, due to the limited number of places, prior registration is required.
Legal notice:
By registering for this event, you agree that all pictures, videos and transcripts taken at the above mentioned event are property of Spark Solutions Sp. z o.o. and can be used for marketing or promotional purposes. You can disable your audio and video though.
The views expressed in the presentations and panel discussions made at the event reflect only the views of the individual(s) making the presentation. The content of each presentation should not be deemed to be an endorsement, recommendation or approval of such content by either the Organizers, Partners or Sponsors of the event.
The event agenda is subject to change without a notice. By registering to participate in the event you agree to the above terms and conditions.
We welcome all interested parties to participate in shaping of the community around Spark Academy events. For more info please feel free to contact:
Ewa Stepien, ewa.stepien@sparksolutions.co, +48 607 805 239
Fb: Redirecting...